Introduction

The traffic signal controller is a system that controls traffic signals to ensure that traffic moves as smoothly and safely as possible.
Following the National Police Agency's standard size, the controllers are classified into basic and slim types.
Day and night brightness control
Dimming control dramatically improves energy efficiency and electrical properties.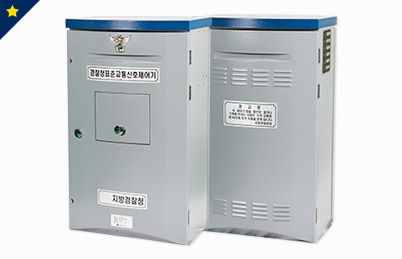 Basic type

Standard size by the National Police Agency
Smooth design, with a polyhedral and curvy structure
MODEL : ST-09ST-D (2009 Standard)

ST-13ST (2010 Standard)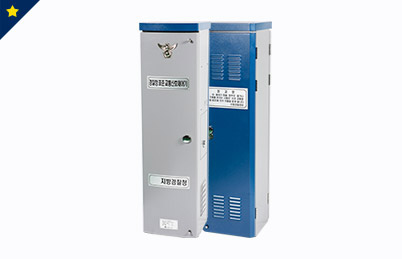 Slim type

Better design in terms of aesthetics
Takes a smaller space for installation
Mainly set up in the metropolitan area and new towns
MODEL : ST-09SL-D (2009 Standard)

ST-13SL (2010 Standard)
Specifications
Specification
SHINYTECH Traffic Signal Controllers
Requirements
Main control
MCU
CPU
32bit, 180MHz
≥32 bit, 25 MHz
RAM
64MB
≥256 KB
FLASH
8MB
≥256 KB
Communication ports
Six serials, one Ethernet
Six serials
Vehicle detection board
Channel no.
Eight channels (Four are available.)
Four–eight channels
Signal control
SCU
CPU
32bit, 50MHz
≥8 bit
RAM
64MB
≥64 KB
FLASH
256MB
≥64 KB
Function
2016-09-12
Alternate half-wave control
Half-wave control
LSU
Quantity
Six circuits, four sets
Six circuits, four sets
* Note : Slim-type products use an eight-channel vehicle detector.
Application of the standard size for traffic signal controllers set by the National Police Agency
Verified by the national certification test
Application of high-performance/high-reliability microprocessors (32 bit)
Design compatible with the international standard, VMEBUS (Backplane)
The flasher function stays on with the input power only.
Various additional options of
• Pedestrian input card • Wire and radio card CARD • Duplex modem card • Image detector • Loop Detector • etc.
Product features
Central remote control

- Real-Time Control
- Time of Day Control
- Manual Control

Associated control

- Modem-based communication with the central computer
- GPS-based time calibration

Sensor-based control

At intersections with large traffic fluctuations, the controller changes the traffic signal in real time
(e.g., ending the current signal early or skipping the next one) by detecting vehicles.
- Left turn actuation
- Spillback Control
- Gap-Time Actuation
- Loss-Time Actuation
- Saturated-Flowrate Actuation

Interaction with pedestrians

- The controller sends out the walk signal upon the request of people in pedestrians to cross the road.

Special control functions

- Flashing control
- Dimming control
- Switch-off control
- Signal maintenance/omission control
- Staggered signal control

Manual control

In an urgent intervention of the traffic police or an emergency, special signals can be controlled using the manual buttons or the MMI.
- Manual switch-off, flashing, etc.
- Resetting the signals in an error state
Traffic signal controller
Components

the main control unit (MCU), the signal control unit (SCU), the terminal unit (T/F), and other units.
| | |
| --- | --- |
| ① Power Supply | Power supply to MCU/SCU and other control units |
| ② MMI | Database input and modification, controller state data |
| ③ MODEM | Data communication with the data center (2,400 bps) |
| ④ MCU | Traffic data collection and analysis, real-time signal control |
| ⑤ Loop Detetor Unit | Traffic volume detection, loop cut detection |
| ⑥ GPS | Receiving the current time from the satellite |
| ⑦ Flasher | Operation of signal flashing in a signal control error |
| ⑧ SCU | Signal control / output detection, signal error detection |
| ⑨ LSU : Load Switch Unit | Traffic light operation, separate operation of traffic lights for vehicles and pedestrians |
| ⑩ Terminal board / input unit | Traffic light / loop wire disconnection, surge protection circuit |
| ⑪ Police Panel | Automatic/manual control, reset, normal/flashing operation |
Product features
1. Background

- Dimming control function : Controls the brightness of the lights to protect drivers' eyes at nighttime and reduce energy consumption
- Dimming control method : An alternating current is recommended by the National Police Agency's standard considering energy efficiency.
- Problems of the traditional dimming control method
2. SHINYTECH's Dimming control technology (patent no. 10-1214468)

- The load switch units (LSUs) that supply power to the traffic lights are divided into Group 1 and Group 2. When the dimming control mode is on, Group 1 and Group 2 generate half waves (positive (+) and negative (–) waves, respectively) of the power signal.
- This improves system stabilization with better energy efficiency and the protection of drivers' eyes at nighttime, compared to the competitive products of other companies.